Contact Us
Contact: Lareina
Tel: +86 755 8302 1980
Mob.: +86 18344259092
Mail: lareina@trianglepower.com.hk
Address:G04,.Ist Van Gogh Rd.DucthFlower Town.NanshanDistrict.Shenzhen.China
Web.: www.tp-hairaccessory.com
Spring/ Summer 2016 Jewelry Trends
来源:Website
Author:admin
Time:22th Feb., 2016
Browse:0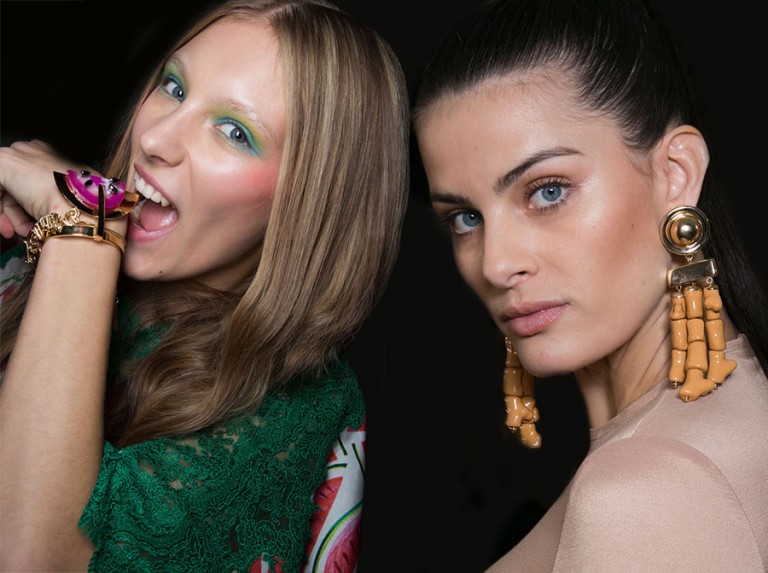 #1: Chokers Are All the Rage
Those fashionistas carefully keeping up with the latest fashion shows have definitely noticed the chokers kicking it into high gear, occurring show after show from New York and London to Paris and Milan, thereby outlining one of the biggest spring/ summer 2016 jewelry trends. These elegant and lovely pieces appearing in abruptly different styles with embellishments or without exactly know the ropes at how to flatter any simple or minimalistic outfit, thus becoming high-voltage weapons in the hands of many a designer.
Etro goes silk with its tiny tender chokers all embellished with botanical motifs so much keeping in touch with the reigning ethnic style on the runway. Again we see fabric chokers at Adam Selman divided into two pieces that come to be united by a flower, while Anna Sui comes up with more realistic floral chokers.
Delicate chokers sink into oblivion when we move to the Valentino fashion show, where bronze chokers with tribal face pendants in the center are coming into view. Chanel's choker makes the statement with its amalgam of metal and pearls, while what we see at Alexandre Vauthier and J.W. Anderson is to be called the synonym of golden rigidness.
Lanvin gives its preference to belt like chokers with buckles, flowers and bejeweled ones with a bow, but it is Christian Dior that brings about the most romantic interpretation of chokers. Nigh all the models are donning thin metallic chokers garnished with iridescent stones at one side, more frequently matched with a scarf tightly wrapped around the neck or with a ribbon at the back becoming a soft hair tie.
#2: Matchy-Matchy Out of Fashion
Not so matchy-matchy earrings are fairly to be called one of the most innovative spring/ summer 2016 jewelry trends. Commonly like it is with shoes, we consider a pair of earrings to be exactly the same, but nothing of the kind is happening at the SS 2016 runway shows. Some pairs differ from each other in tiny details, while others sing abruptly different tunes.
We see the bow like earrings at Lanvin to be different in color. The same tendency is spotted at Marni: leaf shaped earrings come to be in different shades. At Celine we see elongated earrings with different geometrical shaped details at the edges, while Missoni's not so matchy-matchy earrings are quite identical when we look to their half-moon shape, but abruptly different when it comes to the patterns on them.
#3: One Earring Missing
We come across another daring and audacious spring/ summer 2016 jewelry trend under the guise of single earrings. Just pretend to have forgotten to wear the second pair of your earrings and here you will willy-nilly become this crazy trend's truthful follower. Many designers have open-heartedly embraced this trend at the latest runway shows among them beingAlexander McQueen with its elongated shoulder-grazing bejeweled earrings and Ashley Williams exposing massive stoned single earring. Emilio Puccigoes all futuristic with its metallic single earring; Gucci is within pearlescent antiquity and Roberto Cavalli overburdens its models with massive heavy single earrings.
#4: Body Jewelry Is In!
The Asian-style luxurious body jewelry pieces usually having the X shape are covering the whole breast, at times even reaching the hips as well thus making the next unique and idiosyncratic spring/ summer 2016 accessory trend we want to embrace. Alexander McQueen's body jewelry commands attention by its versatility. Rigid silver chained body jewelry pieces so much going with androgynous outfits are contradicted to daintier and more feminine pieces that are worn over lace gowns with sensual cutouts.
We see sophisticated body jewelry at Calvin Klein as well that have a bra shape at the chest while stretching out to the buttocks in shape of trellis. But it is MSGM that is crème de la crème in this sphere. We take it as granted to see the body jewelry pieces stretching to the hips, but then comes that large chained one stretching across the whole body worn over a black frock.
#5: Flora and Fauna Inspired Jewelry
Floral, fruity and animal motifs have always made their way onto garment pieces but time is ripe to go one step further and find them gracefully decorating a woman's neck or wrist or even ears. Anna Sui is head over heels in love with iridescent flowers. She has worked out a whole slew of garment pieces all covered with floral patterns or appliques and an array of floral accessories styling the models' hair, but this was not enough to quench her floral thirst and the result is that we see a handful of realistic floral festoons stretching across the whole bodies of the models or charming chokers with one single statement flower attached to them. Mind-blowing are bangles with one single flower anchored on them.
With Dolce & Gabbana earrings come to imitate a bunch of flowers, while a couple of them bring into play realistic oranges and lemons as well. At Calvin Klein the flower on a bracelet is no way fragile but is standing quite solidly with its golden petals, while Carolina Herrera presents arch like earrings with floral details. When the floral theme becomes conventional we happily look to Stella Jean's playful parrots perching on one ear.
#6: Massive Intricate Jewelry
Whenever it comes to heavy massive jewelry designs, we are saturated with some apocalyptic vibes and the same happened when the recent fashion weeks made a start giving rise to the next charming accessory trend for 2016. Chanel's overall futuristic atmosphere could not but include those massive pieces. A few metallic chokers pulled together are entirely covering the neck, while a couple of waterfall imitating breastplate necklaces are bringing about a harmonious mishmash of metallic chains with pearls.
At Vivienne Westwood drop earrings are so massive and labyrinthine that you literally get lost. Balmain's bronze colossal impressive chokers look quite simple when compared to Givenchy's golden chokers that seem to have been snapped up straight from a battlefield especially when matched with similar heavy headwear ending in massive plate earrings.
#7: Ankle Chains
Anklets so popular in the Western culture back in the 20th century and such traditional pieces among Indian brides even now are making a great comeback in our everyday life. Tiny golden anklets are spotted at Chloematched with colorful flip-flops, while Marc Jacobs goes more extravagant by pairing pointy-toe pumps with two layered (beaded and pearlescent) anklets.
#8: Afro-American Tribal Jewelry
The SS 2016 RTW fashion shows more often left us sauntering around Jamaica listening to Bob-Marley-style reggae music or wandering about the Amazon jungles. You have definitely noticed the Valentino catwalk saturated with African tribal vibes whether we look at those frocks all decorated with animals or those ivory necklaces that come to be multilayered with fang like details and animal or tribal faces. The high-tech artistry of African craftsmanship is entirely revealed in multilayered tube beaded pieces that come to play a fun game of colors either on the neck or on the body in the guise of belt.
Alberta Ferretti has also made a reference to African lifestyle by exposing drop earrings with roundish details united by black ropes and an array of breastplate necklaces presenting a funny parade of roundish details of different sizes and shapes. At Tommy Hilfiger the tribal theme is more colorful and festive with a plethora of tube necklaces with polished stones and tassels hanging down or styled with crab pendants and a handful of rainbow-like bracelets and diamond shaped drop earrings.
#9: Elongated Necklaces and Earrings
The latest fashion shows are a case in point that the longer the jewelry you are wearing is the longer you will be printed in memories. The tribal necklaces by Alberta Ferretti reach the belly, while the not so matchy-matchy earrings a la Celine are shoulder grazing. We see labyrinth necklaces at Chanel with black beads mixed with Chanel label metallic details stretching across the whole bodies and we are dumfounded by the longest necklaces presented by Tia Cibani.
Gucci's drop elongated earrings come to be formed by flower-shaped details lined up next to each other, while Giorgio Armani is exhibiting tube or pencil shaped earrings more often coming in red and navy blue and so perfectly going with the overall elegant style reigning on the catwalk.
#10: Cords to Be Used As Jewelry
The spring/ summer 2016 jewelry trends bring forward another unique trend to use robes as jewelry pieces. This safari style trend is reaching its pinnacle at Isabel Marant when she finds the outfits chock-full with all kinds of cords and ties not to be enough thus replenishing them with metallic or macramé knotted chokers ending with black, yellow and orange robes at both sides nonchalantly going to and fro.
At Giorgio Armani multiple striped robes gathered together flowing down the whole bodies covering it like a curtain, while at Chloe black robes decorated with golden rings in between are reaching the hips of the models tied at the belly to give them a necklace effect. At Dsquared2iridescent cords come to play a role of sporty body jewelry wrapping the whole body as if ready to head to hiking.
#11: Stones, Beads and Pearls
All those stones and beads with or without glitters polished or with ragged surface, in vibrant or muted shades are in full blast come the spring, ready to flatter any skin tone and any minimalistic outfit, while the pearls blur all the boundaries between elegance and casual outfit. At Alexander McQueen, metallic bejeweled shoulder grazing drop earrings are mixed with elegant white pearls, while at Ashley Williams all bejeweled chokers and earrings are sparkling with utmost glory. Badgley Mischkacomes up with black and white oversized round beads lined up to give birth to an array of bracelets and chokers.
Balmain goes with cream and green rugged beads in the form of drop earrings, while at Bottega Veneta brownish somewhat transparent beads are effectively blended with metallic pieces forming elegant pieces. When it comes to Chanel, we witness a lot of stones and pearls stuck together, while at Dennis Basso things take a more precious turn when precious stones come into play shaping up chic chokers and earrings.
Noteworthy are those single statement stones at Christian Dior and Dries Van Noten that are fixed on a simple ribbon or a metallic choker just to grace any woman's neck. At Salvatore Ferragamo black and white pearls serve as pendants on elongated thin chains but it is single pearl earrings that take pearlescent use to a brand new level.
#12: Kaleidoscope Effect
We all remember that favorite and funny toy of our childhood every single twist of which was generating fresh new motifs and colors. The same is happening on the SS 2016 RTW runway shows. We make a twist and find ourselves gazing at Dolce & Gabbana yellow-red-blue kaleidoscopic earrings, another spin and Derek Lam's blue-orange-cream tube chokers worn one over another are coming into view. Try to twist for the third time and Kenzo will treat you to a green-orange-yellow-brown breastplate necklace.
#13: Luxurious Facial Decorations
The spring/ summer 2016 jewelry trends command you to adopt some punk touches for the upcoming warm season under the guise of piercings and other facial decorations. At Givenchy piercings appear not on the lips, neither on the nostrils, not even on the brows but on the most unexpected place of the face – at both sides of the bridge of the nose. We would definitely stare at these stunning beads for a long time if not those mind-blowing facial decorations making the Givenchy spring 2016 fashion show simply unforgettable. Tulle and lace pieces mixed with white pearls, shell decorations and a lot of stones are encrusting the entire faces of the models leaving only the eyes open, at times even covering the whole neck and ears as well.
At Vivienne Westwood a model's face is veiled with a mesh piece, over which multiple red feathers are fixed showing the model's one eye only. Another facial mesh veil is decorated with artificial eyes and lips being a more Halloween-worthy piece. Metallic nostril piercings are spotted at Chanel that take the shape of the letter C.
#14: Brooches Are Back
Brooches fixed on the chest of a blouse or on the lapel of a blazer are commonly associated with older generation women but that association is instantly nullified once we look to the young models strutting down the runways carrying luxurious brooches on different garment pieces. Gucci is far the greatest brooch aficionado. Here we see multiple bejeweled brooches like the ladybird or the eye shaped ones attached to the neckties, in the center of the scarves tied in the bow shape or on the collar. Floral brooches predominate at Gucci mostly occurring in vibrant colors attached to the collars or on the shoulders.
At Versace silver stars are decorating the collars of the shirts, while a violet-green plastic flower has found its comfortable place on the chest pocket of the matching blazer. Rochas follows in the footsteps of Versace bringing a pair of bejeweled pieces attached to the collar, while theMichael Kors brooches are precious stones on the blazer lapels.
It is definitely Marc Jacobs to lead the pack with multiple brooches in one place; the lapels of a white blazer are embellished with buttons and pearlescent note-shaped details, the red leather jacket brings about a jumble of beaded buttons, notes, eyes, hearts and horseshoes, while the denim jacket is entirely encrusted with brooches of different shapes and materials.
#15: A Plethora of Rings on One Hand Or One Single Statement Ring
We are gradually moving from neck and ears to the hands just to embrace the next big 2016 jewelry trend. Tiny tender rings have already sunk into oblivion popping only in weddings maybe. Massive statement rings more frequently embellished with stones are a thing now but they look more effective and show-stopping when piled together on one hand. At Dries Van Noten a single statement ring all encrusted with blue stones is worn on the index finger, while another one – on the middle finger over the glove.
This tendency to wear rings over gloves is spotted at Gucci as well, but in this case bringing into play superfluity of rings on both hands; a colorful beaded one on the index finger, another blue stoned one on the middle finger, while the third flower-inspired ring on pinkie and the second hand brings other massive rings of quite different styles. Actually it is not this plethora of rings at Gucci that knocks our socks off but those brand new golden ones having the shapes of fingernails and worn on the fingertips thus creating an illusion of golden lacquer.
#16: Cuff and Bauble Bracelets Are Perennial
Cuff and bauble bracelets are repeating themselves year after year, show after show, season after season and what is more surprising about them is that we never get enough of these timeless pieces. The 2016 fashion shows are again replete with cuff and bauble bracelets of different designs and materials, worn alone or in pairs, on one waist or on both. At Bottega Veneta cuff bangles have the shape of metallic braids with precious stones peeping in between, at times worn with pairs on one waist.
Celine is providing us with an array of bauble bracelets with round or square stones on them, while Chanel's cuff bracelets are featuring the brand's trademark but also Cambridge textured ones worn on both waists. It is Giambattista Valli that presents awesome bauble bracelets styled with oversized stones.
We see beaded cuff bracelets at Elie Saab as well and metallic ones with various textures at Emporio Armani. At Nicholas K cuff golden bracelets are so massive and heavy that are well-nigh covering the whole arm thus morphing into armor.
#17: Cuff Bracelets Become Multiple
The next summer 2016 jewelry trend just screams to pile together a lot of plastic cuff bracelets on one wrist and more advisable it is to give preference to vibrant colors. Givenchy stays true to its mourning black theme and embellishes the models' wrists with multiple sleek black bracelets up to the elbow.
At Greg Lauren multiple tiny silver bracelets are worn on both wrists; at Isabel Marant it is tube bracelets to make a gathering, while at Marni round-shaped multiple plastic bracelets are taking the scene and it isRalph Lauren to bring about the most vibrant orange and blue plethora of bracelets.
#18: Stylish Pendants
Pendants are also overwhelming the 2016 runway shows treating us to the next accessory trend for the upcoming warm season. While some fashion houses go quite minimalistic and modest with pendants like we see those holy pieces at Trussardi, others have found abruptly different solutions for pendants. Balenciaga and Loewe have gone uber-creative, the former with its case like golden pendant, the latter with its oversized golden fish one. Tory Burch pendants feature diamond-shaped stones and there are also those dainty star pendants at Versace.
#19: Chandelier Earrings
Those intricate chandelier earrings are outlining one of the biggest spring/ summer 2016 jewelry trends partially due to their multifunctional character to be worn on special occasions for a more luxurious and chic look and in everyday life to bring some bohemian free-spirited touches to your outfit. We see them inundating the fashion shows either coming in metallic chains or encrusted with stones and beads. At Alexander McQueen shoulder grazing chandelier earrings are metallic and pearlescent, at Gucci we see beaded ones with some ornamental structure, while at Kenzo chandelier earrings are flower inspired, adorned with a whole lot of stones and bead and pearls.
#20: Clip Earrings
Clip earrings also made their way onto the spring/ summer runways shows and it was Givenchy to deliver a lot of ear clips, round or sharp all at once anchored on different places of one ear. At Stella Jean ear clips are brought to quite a new level clipped on only one ear in the shape of paper animal.
#21: Two in One Jewelry Pieces
Some jewelry pieces forwarded down the runway shows carry out the whole two functions at the same time. Among them the catchiest are Rodarte's Arabian style golden cuff bracelets smoothly becoming rings on the fingers through a chain link. The same bracelet-ring pieces are spotted at Valentino but with thinner texture as opposed to the intricate ones atRodarte. If the above-mentioned 2 in 1 pieces are somewhat conventional, those golden pieces simultaneously serving as a bracelet and a purse brought forward by Balenciaga are definitely to be registered in the list of innovations come the spring.