Contact Us
Contact: Lareina
Tel: +86 755 8302 1980
Mob.: +86 18344259092
Mail: lareina@trianglepower.com.hk
Address:G04,.Ist Van Gogh Rd.DucthFlower Town.NanshanDistrict.Shenzhen.China
Web.: www.tp-hairaccessory.com
The Top 7 Wedding Dress Trends from Bridal Fashion Week
来源:The Site
Author:admin
Time:2019-5-7
Browse:0
The Top 7 Wedding Dress Trends from Bridal Fashion Week
By Samantha Iacia April 18, 2019
Hot off the runways, these 2020 wedding dress trends already have people talking. From throwback styles to a fresh take on traditional lace, we've got the latest wedding dress trends you need to know right now.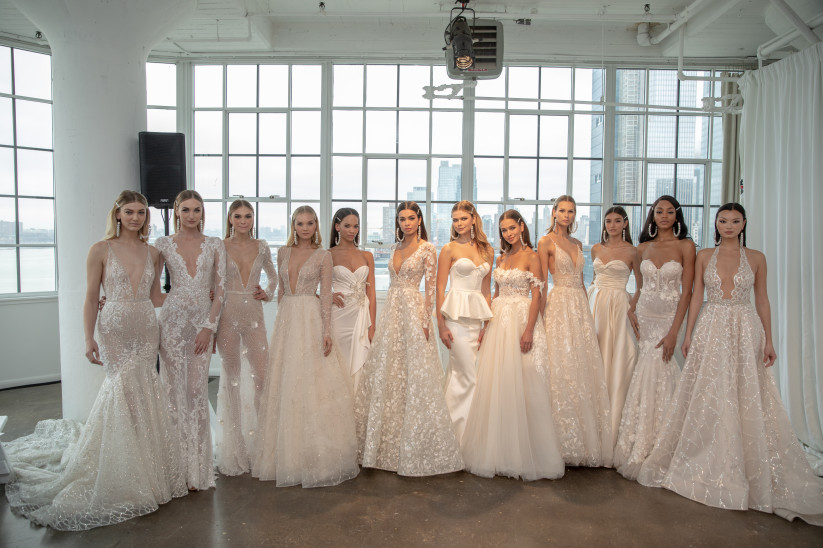 We're officially back from New York Bridal Fashion Week where bridal designers from across the globe revealed their latest collections and, of course, the 2020 wedding dress trends! These dresses will be arriving in stores throughout late 2019 and early 2020, so if you're newly engaged — or if you're anticipating a ring and are ready to do a little pre-engagement dress shopping — then you've come to the right place. The newest wedding dress trends include a mix of classic and unexpected designs, with a few bridal fashion wildcards (here's a hint: Shakespeare) that we're already obsessing over.
Here are the top wedding dress trends to keep on your radar for 2020 and beyond.
Dress by THEIA
Disco-Inspired Designs
This season left us feeling ready to get down and boogie, with the nightclub scene of the '70s having a major influence on some of the latest wedding dress trends. Sequin-adorned silhouettes, wide-leg jumpsuits, and iridescent fabrics (hello, lamé!) were just some of the disco-worthy elements we spotted on the runways. The entire Spring 2020 collection at THEIA was inspired by Studio 54, New York City's famous dance club in the 1970s, while other collections embraced the disco aesthetic in a more subtle way. Designers like Francesca Miranda, Berta, and Galia Lahav put their own spin on the disco trend by opting for halter necklines, skirts with thigh-high slits, and fabulous feather accents. The disco theme didn't stop at dresses, either — we also noticed a '70s influence in bridal beauty, with models at multiple shows rocking pastel eyeshadow and brushed out curls.
Dress by Ines Di Santo
Matelassé
If you're a fan of lace, then we think you'll love this gorgeous alternative that we noticed in several collections at New York Bridal Fashion Week. Meet matelassé, the lesser-known (but equally chic) fabric that has the look of lace with a fashion-forward twist. Matelassé is a type of stitching that gives fabric a quilted appearance, similar to a jacquard or damask weave, and it's perfect for achieving a look that's traditional yet romantic. For Spring 2020, designers used matelassé in various ways, from Ines Di Santo's pearlescent ball gown skirt, to puff sleeves at Lela Rose and even a floor-length coat by Anne Barge. We're calling it now: this exquisite material is on track to be one of the next big wedding dress trends for brides with sophisticated style.
Dress by Gracy Accad
Bridal Shorts
We've seen bridal jumpsuits for the last few seasons, so it was only a matter of time before designers made the leap to bridal shorts and rompers. (FYI, Denise Richards was way ahead of the curve when she sported a Mark Zunino romper at her wedding in September 2018 — what else do you wear when you're walking down the aisle to a Metallica song and making your grand exit on a motorcycle?). For Spring 2020, this leg-baring wedding dress trend was spotted in the new collections at Gracy Accad, Justin Alexander, Reem Acra, and Ines Di Santo, with designers opting for both edgy and understated looks. Models strutted down the runways in everything from matching shorts and blazer sets, to dresses with sheer skirts and high slits that allowed shorts to peek out from underneath.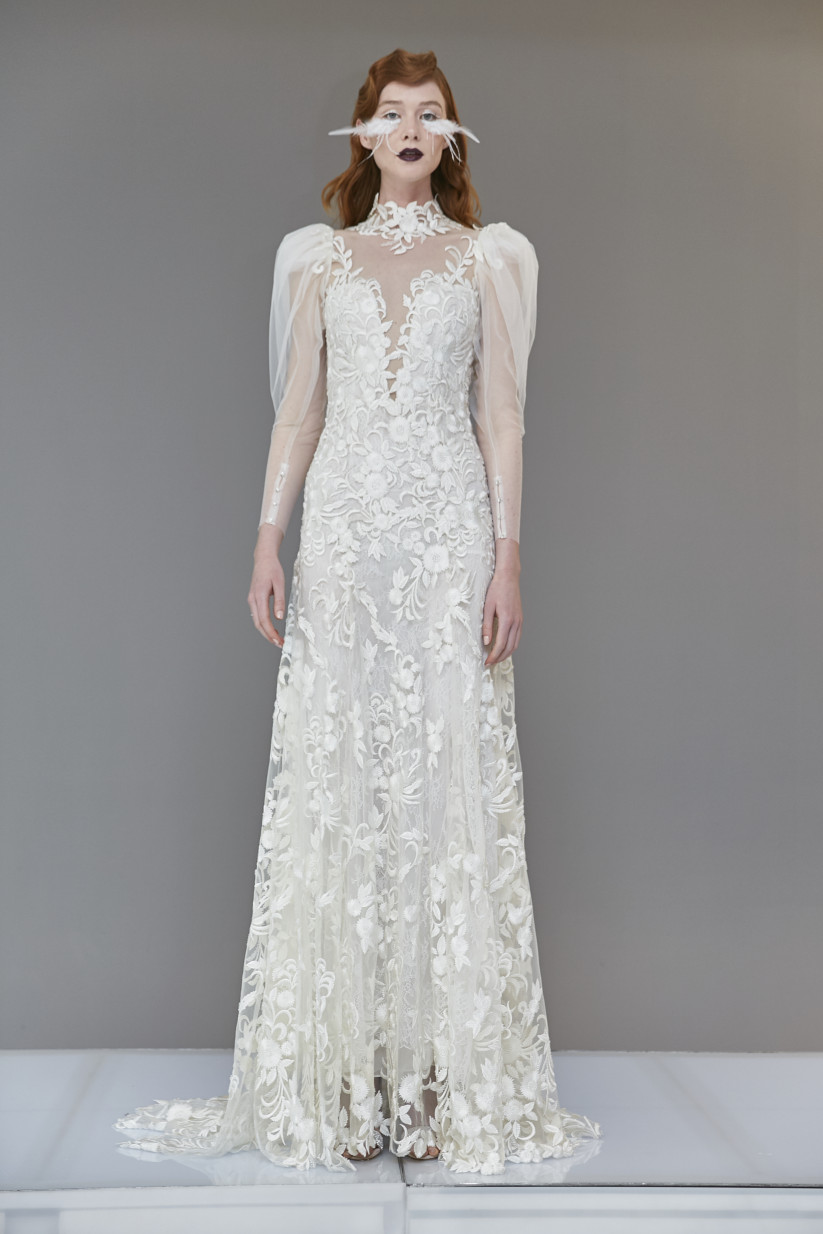 Dress by Francesca Miranda
Shakespeare (But Make It Fashion)
It looks like modesty is on its way back, but if the Spring 2020 wedding dress trends are any indication, being covered up on the big day will be far from boring. We saw a ton of Elizabethan-era influences this season, from puff sleeves and high necklines, to exposed corsets, capelets, and lots of intricate lace. The result? A vibe we're calling Shakespearean chic. This latest trend is our pick for the bride who's not afraid of a fashion risk or two — it takes a certain amount of moxie to rock something like a ruffled tulle collar! But the Shakespeare wedding dress trend also veers traditional, since it incorporates timeless elements that have been around for hundreds of years (and probably will be for hundreds to come).
Dress by Sareh Nouri Meghan Markle Look-Alikes
Even though It's been a year since the Sussexes tied the knot, the royal wedding was still a hot topic at New York Bridal Fashion Week, and we have the Spring 2020 wedding dress trends to prove it. Meghan Markle's minimalistic gown caught almost everyone by surprise last May, but that hasn't stopped designers from pulling inspiration from the now-iconic understated design. Structured silhouettes and unembellished fabric à la the Duchess of Sussex were prominent in collections from Amsale, Halfpenny London, and Justin Alexander, but some designers took the royal craze a step further. Sareh Nouri was inspired by beloved royal brides for her Spring 2020 collection and named her dresses after famous princesses, including Kate, Eugenie, Diana, Letizia, and of course, Meghan.
Dress by Watters We're Seeing Spots!
Polka dot wedding dresses are another "it" choice for 2020 brides. We've seen polka dots embellishing veils and accessories in the past, but designers this season adorned entire gowns with the playful pattern. Sheer Swiss dotted overlays, flocked tulle, and other circular designs were spotted in the collections by Halfpenny London, Watters, and more. These chic dots add a vintage-yet-whimsical feel to 2020 wedding dresses and are perfect for any bride that loves feminine touches like tulle and lace.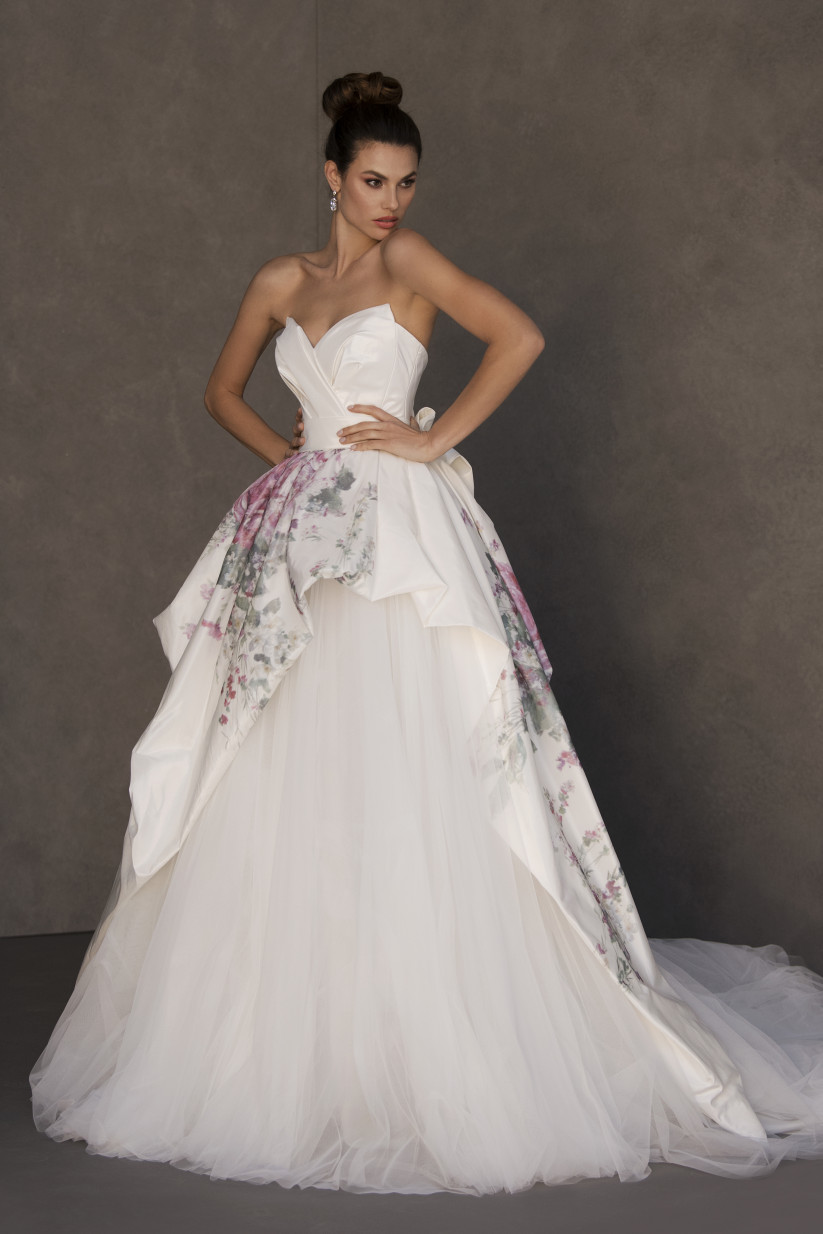 Dress by Valentini Spose
Attention-Grabbing Asymmetry
Asymmetrical looks were another show-stopping 2020 wedding dress trend. We saw asymmetrical tiered skirts give standard ball gowns a jaw-dropping waterfall effect, while architectural draping, pleats, ruffles, high-low skirts, and oversized bows were other ways that designers added artistic flair to their gowns.